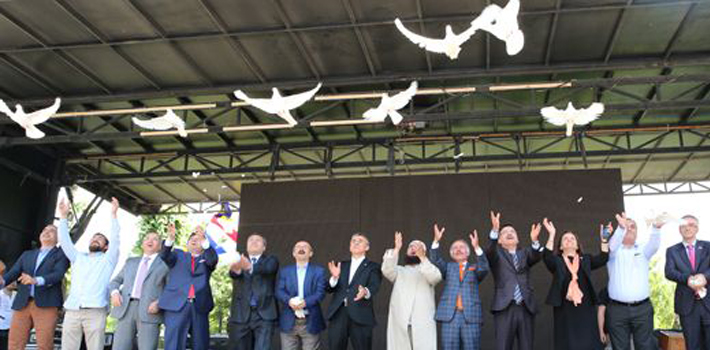 Bereket Convoy, which got prepared to meet the kins and citizens in Balkans with its 80 volunteers, 4 trucks, 2 buses, 4 minibuses, set off again this year. The farewell ceremony, organized before departure, was participated by Mayor of Bayrampaşa Atila Aydıner, District Governor of Bayrampaşa Hasan Gözen, Bayrampaşa District Director of Education Abdülaziz Yeniyol, Police Chief of Bayrampaşa District Aytekin Uyar, Consuls of Balkan countries, Deputy Mayors, aldermen, NGOs, sponsors of the convoy and many citizens.
In the ceremony Mayor Atila Aydıner said, "The Project of Ramadan in Balkans is a project of friendship, peace, brotherhood and culture. In Balkans we organize iftar programs not only to treat meals to people but also to perpetuate our bonds with them. We have been building friendship bridges between Turkey and Balkans for 10 years. I thank to each person who support us in this cultural project."
Since 2005, Bayrampaşa Bereket Convoy has organized iftar programs in 9 Balkan countries such as Croatia, Bosnia and Herzegovina, Bulgaria, Macedonia, Kosovo, Serbia, Montenegro, Greece and Albania; and again this Ramadan it gathered thousands of people to say "Amen" in the same table.