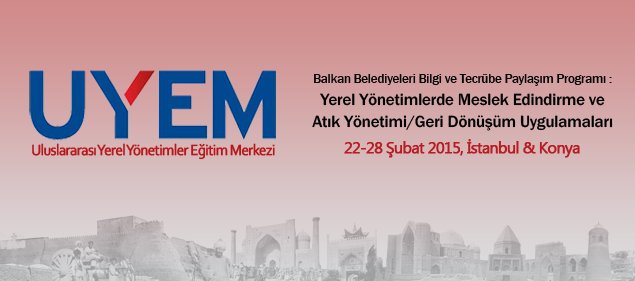 "Information and Experience Sharing Program", organized for the mayors of the member countries' by Union of Turkish World Municipalities (TDBB), continue.
In this framework, the first program of 2015 will be held for TDBB member municipalities in Balkan Countries, in Istanbul and Konya between 22 and 28 February 2015, on "Waste Management/ Recycle and Employment Applications". The program, organized in cooperation with TIKA, will be attended by almost 30 mayors from Bosnia and Herzegovina, Bulgaria, Montenegro, Kosovo and Macedonia.
Within the framework of the program, mayors that will attend the program from Balkan Countries and the mayors of their sister cities in Turkey will meet in dinner organizations in Istanbul and Konya, hosted by Üsküdar and Selçuklu Municipalities. During the programme, participant mayors will be informed on specific subjects about the activities of Istanbul Metropolitan Municipality, and Üsküdar, Selçuklu and Bayrampaşa Municipalities, and they will have the opportunity to investigate the applications on site. Besides the mayors will have the chance to visit historical and cultural places of Konya and Istanbul.
The opening ceremony of the program will be held in TDBB Headquarters on 23 February 2015 at 10:00 pm. In the ceremony, alongside with the protocol speeches, "TDBB Membership Certificates" will be given to new members of Union from Balkan Countries.
The program will end on 27 February 2015 with the closing ceremony hosted by Bayrampaşa Municipality, and the presentation of Participation Certificates to the participants.