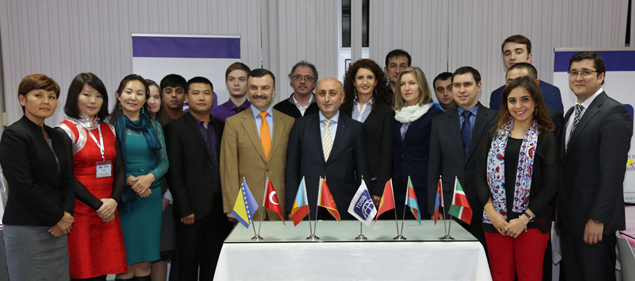 The Training Program themed as "Information Technologies and E-Municipality Applications in Local Governments", organized by Union of Turkish World Municipalities (TDBB) in cooperation with TIKA between 7 and 13 December 2014 in Istanbul with the participation of administrators from 7 different countries, ended.
The program, which lasted for one week, was participated by 13 IT officials from TDBB member municipalities from Azerbaijan, Bosnia and Herzegovina, Montenegro, Kyrgyzstan, Moldova, Mongolia and Tatarstan.
On the first day of the program, after making a culture tour in Istanbul, the participators had visited Istanbul Metropolitan Municipality Project Introduction Center and had the chance to examine major projects that were carried out in Istanbul.
On the following days the program started in BELBIM inc., one of the municipal corporations of Istanbul Metropolitan Municipality (IBB), and the participators were informed about Electronic Fee Collection Systems, AKYOLBIL System carried out via GPS, Smart Ticket (AKBIL) Application and Advanced Mobile Systems applied in Istanbul; then they visited ISBAK inc. and had the chance to observe a number of applications like Istanbul Tunnels SCADA Systems, Smart Transportation and Smart Lighting Systems.
The delegation also participated in World Intelligent Cities III. Summit
Within the program, between 10 and 11 December the delegation participated in sessions of World Intelligent Cities III. Summit (WICS 2014) held in Istanbul, an organization also supported by TDBB. The delegation attended to sessions of Intelligent Cities Development, Intelligent Buildings and Homes, Geographic Information Systems, Big Data and Data Cloud, Mobile Applications in Smart Cities, Social Media in Smart Cities, Smart Water and Waste Water Management, Energy Efficiency in Cities and Istanbul Smart City Panel; they also found the opportunity to listen several presentations on the usage of electronic systems in local governments.
Later on the program continued with ULASIM inc.'s presentations on Signalization Systems, Passenger Information Systems and Smart Rail System Solutions, observations on IBB Information Technologies Department's E-Municipality Applications, and finally the presentation of Zeytinburnu Municipality on e-municipality activities.
The program ended on Friday evening with the Closing Program and Certificate Ceremony hosted by Zeytinburnu Municipality.