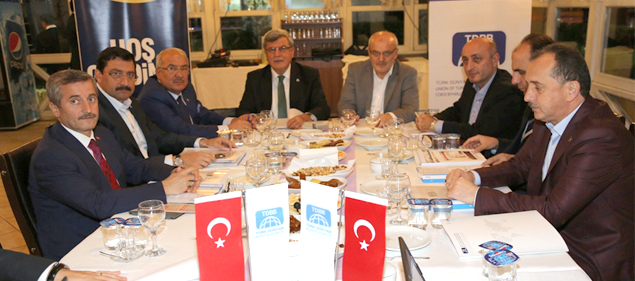 October Meeting of Union of Turkish World Municipalities (TDBB)'s Executive Board was held in Beykoz hosted by Yücel Çelikbilek, TDBB Executive Board member and also the Mayor of Beykoz Municipality.
The meeting, under the chairmanship of Union's President and also the mayor of Kocaeli Metropolitan Municipality, Ibrahim Karaosmanoğlu, was attended by members of Executive Board who are Mayor of Mersin Metropolitan Municipality Burhanettin KOCAMAZ, Mayor of Beykoz Municipality Yücel ÇELİKBİLEK, Mayor of Zeytinburnu Municipality Murat AYDIN, Mayor of Selçuklu Municipality Uğur İbrahim ALTAY, Mayor of Keçiören Municipality Mustafa AK and Mayor of Bağcılar Municipality Lokman ÇAĞIRICI.
In the meeting, first of all, General Secretary of the Union Fahri Solak informed the members about the activities carried out since the previous meeting held on September, the Commemoration Program for Rahman Kul Khan which will be held on 26 October, and the agenda of the next training programs which are: "Water Management" program on November, that will be done in Kocaeli for the member municipalities in TRNC; and "Municipality Participation and Urban Transformation" program that will be done both in Şahinbey and Istanbul for the member municipalities in Kyrgyzstan.
TDBB organizes three more Municipal Trainings in Fall Season
After the briefing, the meeting continued with the discussion of subsequent agenda; the members decided the Union to call attention to the member municipalities in Turkey about the refugee problem in our country as a result of the recent regional development, and to carry on the research about the activities that can be done in 2015 for the 100th anniversary of Çanakkale War.
In the meeting, the decisions were made on starting the process about the training program on "E-Municipality Applications in Local Governments", which will be done in December within the framework of UYEM Fall Training Programs, and on presentation of the membership applications of Konya Metropolitan Municipality, Kayseri Hacılar Municipality, and Megidia Municipality and Valui Lui Traian Municipality of Romania to the Administrative Board with assent. Besides, the members exchanged opinions about 2015 annual activity plan.