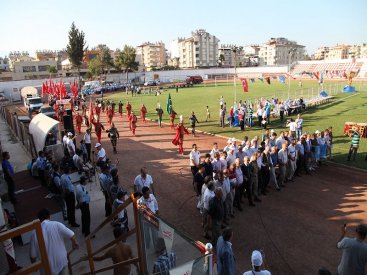 Antakya Municipality that is Member of TDBB organized "Aba Wrestling that is for 74 thanniversary of Hatay attanding to Turkey.
Antakya Aba Wrestling was held with support of TDBB in Antakya Atatürk Stadium. The Total of 143 athletes attanded from many cauntry such as Turkey,Azarbaijcan, Dagestan, Nakhicheva, Bashkortostan (RF), Bulgaria, Kyrgyzstan, Uzbekistan, Germany, Iran, Hungary, Turkmenistan, Romania, the Crimea and Ukraine, Yakutia, Russian Federation, Afghanistan and Kosovo.
The activity started by opening ceremony that attanded Governor of Hatay M.Celalettin Lekesiz,Deputy of Hatay from CHP Party Hasan Akgöl,Mayor of Antakya Municipality Doch.Dr.Lütfü Savaş,Secretary-General of TBB Hayrettin Güngör,Member of Local Parliament and folk.