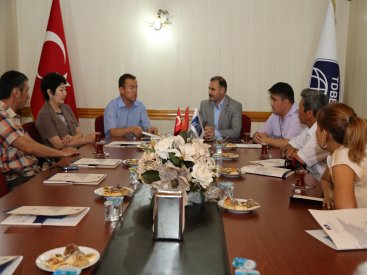 The mayor of the city Talas of Kyrgyz Republic, Mr. Anarbek Kushubekov and with his wife Gulsadoy Duishenova, together with a delegation visited Union of Turkish World Municipalities yesterday. Members of the city council of Talas city, a writer and editor Toktogul Ibragimov, artist Janybek Rayev, Regional Director of Ata Jurt, Iyık Atajurt  and Talas Foundation Chairman Shekerbek Nishanov visited headquarter of Union of Turkish World Municipalities.
Visit to Turkey for the invitation of the mayor of the city of Talas, Mr. Rıfat Yıldırım, on the occasion of the competition in wrestling, which is called "6th Talas wrestling Karakucak" guests held a series of meetings with the mayor of the city of Talas, Kayseri governor, Mr. Orhan Düzgün.
After the event, the delegation came to Istanbul, where they visited Headquarter of Union (TDBB).
Secretary General of Union, Mr. Mustafa Başkurt and specialists of the Department of External Relations met the delegation. The meeting was held in a warm atmosphere. Mayor Mr Anarbek Kushubekov shared impressions about the competition. This is the second visit of the mayor in the Union.
In 2012, Kayseri Talas Municipality gave a bakery in charity to his the twin city of Talas in Kyrgyzstan, which currently operates and provides bread for schools, high schools and hospitals in the city. After telling about these and other works and projects that are carried out between the twin cities, the mayor emphasized the important role of the Union and thanked them for their cooperation and support for the establishment of sister city relations. He added that while the spiritual relationship is now established and economic relations between the cities, coming soon to a book about the city of Talas, which will be published jointly by the twin. The mayor expressed his hope and to further strengthen these relations.
Secretary General of the union, Mr. Başkurt thanked the guests for coming, spoke about the work and activities of the Union, to exchange experiences, international educational programs implemented by the mutual efforts of the members of Communities. It is also noted that Union is ready for new projects and to continue to cooperate.
After the meeting, the guests visited the museum Panorama 1453.