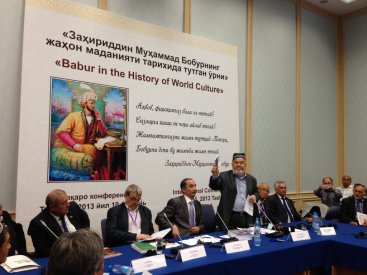 The delegation of Union of Turkish World Municipalities is on a working visit to Uzbekistan.
The delegation includes Vice President of TDBB&Mayor of Hendek district Mr. Ali Inci, Secretary General of TDBB Mr. Mustafa Bashkurt and experts of Kocaeli Municipality.
The delegation arrived in the country with the purpose of technical studies and participated in a symposium titled "Babur Shah in the cultural history of the world", dedicated to the 530 anniversary of Babur Shah.
The symposium discussed the issues related to the field of creative activity of the great man Babur Shah. As well as the important role of his work in the Turkish culture and literature. His Work "Babur Name", which enjoys a great fame and translated into different foreign languages, was written by the poet in Chagatai language.
Poet reflects the social, cultural and political life of his time. That is why it is a masterpiece of Product of Turkish literature. On this and other important features is stopped academics and guests of the symposium in speeches.
During the visit, Ali İnci conducted his research in the field of sanitation and water well site and also visited the computer classes for visually impaired people with disabilities. The possible joint projects were discussed in this regard.
During the visit, the delegation also met with the consulate, the coordinator of TIKA, and also visited the administrative departments of cities Jizzakh and Syrdarya.